OVER 27 YEARS' WORTH OF FISHING PHOTOS!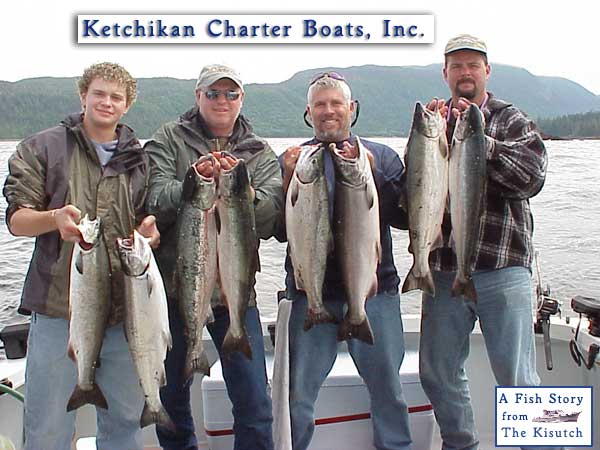 We use Down-riggers to catch your Salmon Just as the locals do!
---
---
PICTURES FROM THE PAST!
Where did the below phrase come from?
---
"One Picture is Worth Ten Thousand Words"
It came from 2 Marketing ads 1 of them was a March 10, 1927 Issue it was from Barnard's firm. It referred to a baking soda ad campaign. Who knew!
Nevertheless, I believe the images in our fishing gallery are worth ten million words each.
These fishing photos go back to before October 7, 1999. I had even found a few from when gas was cheap, and the boats had more time and carried hunters to cabins, and there are way too many to post all of them here!
The Information on both of these photos came from our published page ketchikancharterboats.com back in 1999. I found them on the Wayback Machine and thought I would share the text and Photos here.
---
1999 Spring Bear Hunts Click here!

This was back in 1999, Transport to cabins and other places is no longer available today

Ketchikan Charter Boats, Inc. (KCBI) provides transport to and from your hunting location. You have the opportunity to lodge on the boat, having a floating base camp, during the hunt and use a small skiff to reach the hunting area. With the mobility of a floating base camp, you can quickly change hunting areas while also saving hiking time. While using KCBI as the floating base camp, you will be provided with warm meals and a warm place to sleep. Or, if you wish you may choose to rent a cabin from the Forest Service or pack a tent and camp during the hunt. If you rent a cabin or camp during the hunt, KCBI makes arrangements for a date and time for your transport out.
1999 Blacktail Deer Click Here!

This was back in 1999, Transport to cabins and other places is no longer available today.

"If you have a successful hunt and wish to fish during the remainder of your time we can arrange that also. Fishing licenses and king salmon stamps must be filled out from the skipper, and all boats carry the necessary fishing gear and bait that you would need. KCBI can arrange transportation to and from the airport. Should you need local lodging or tourism information while in Ketchikan we can help with that also."
HUMPBACK WHALE VIDEO!