Get Alaska State Fishing License Info at the link below.
Learn what you need to be able to fish in Alaska.
The cost of this is not included in the charter and is a direct pass-through to the state.
We are a vendor for ADF&G and these can either be purchased ahead of time by credit card online or directly from the captain and paid for in US cash.
Purchase licenses online here at the direct link to the online store.
Please make sure all information is correct before completing your order. The online license has to be printed in hand and signed on the day of the trip. If you forget it is an additional fee for a duplicate. The state of Alaska will not accept a digital copy on your device.
All species found in Alaska!
This link was an informative find it lists all species found in Alaska! Although some of them are not found on our island since we are in the southeast. Ketchikan takes up about 2% of Revillagigedo Island. The island is about 35 miles long by 55 miles wide, about the size of Road Island, and has a population of around 8,000. Alaskan Species
---
KETCHIKAN WEBCAMS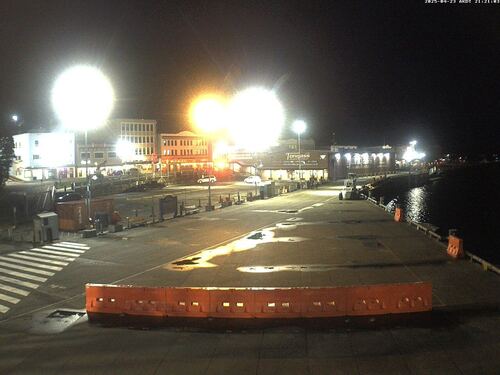 Ketchikan webcam one looking at the old downtown area.
This camera is mounted on the Berth #3 Visitor Center and looks towards the old downtown area it is about five small city blocks total, and if you are going to the old redlight district, it is the path you will travel to get there. The tall antenna in the back above Tongass Trading is our radio station KRBD FM you can listen to it live online! You can barely see the Verizon cell tower in the background the last camera is attached to it looking back over the whole downtown area. I will explain a little below that camera. Yes, your cell phone will work as it should once you are off the ship. You should always check with your provider while planning your Alaskan adventure!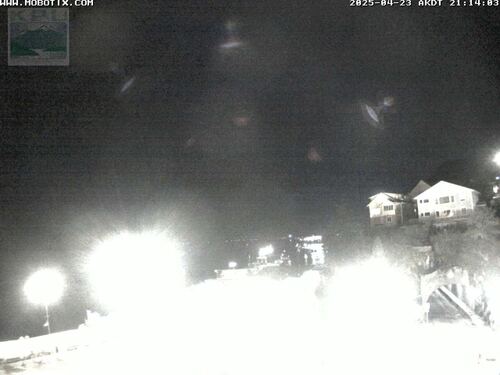 Ketchikan cam two looks towards the old downtown area it is about five small city blocks total.
This camera view looks back at Berth 3 Visitor Center. It views the airport on Gravina Island, Over in the lower right-hand corner you can see our tunnel, and the houses that were on top of the solid rock when it was built back in 1954 with no more than a pick and shovel as a means to expand the towns ability to expand further north — once completed as a two-way road they realized that they had not planned for a pedestrian walkway and then decided to build a route around the tunnel — leaving it only for the northbound traffic. Making it one of the only tunnels you can drive through around and on above.

Webcam 3 is pointed towards downtown to see a picturesque view of the cruise ship docks.

Webcam 3 points towards the downtown area. From here at any point in the day May to September you can see cruise ships that deliver over one million guests to Ketchikan a year. Also see fishing vessels, both commercial and locals vessels taking family and cruise guests out for an experience that is second to none! Ketchikan has the most extensive collection of sightseeing floatplanes. Both de Havilland Canada DHC-2 Beaver's and de Havilland Canada DHC-3 Otter's.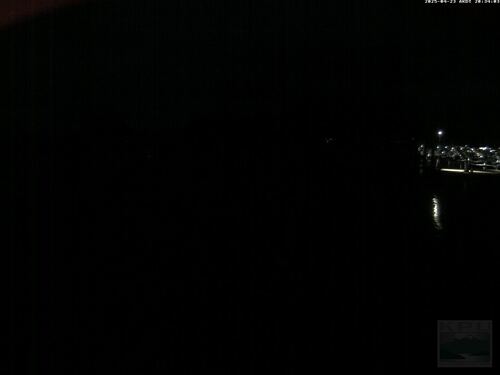 Webcam 4 looks towards the Bar Harbor Marina entrance & the Ketchikan Airport
This webcam located close to the Safeway grocery store and it has a closer view of Ketchikan Airport You can see part of the most significant harbor in Ketchikan Bar Harbor marina, It is home to all vessels both private and commercial. It is Ketchikan's largest marina. You can see Alaska Air Lines Seven Forty sevens planes landing. They are the only comprehensive air service that flys in and out of the area. You can see floatplanes landing in front of the airport. They pick up/deliver guests who have chosen to stay awhile in one of our many hotels and bed and breakfasts. During certain times of the year, you may even see Bald Eagles flying around, or sitting out by the entrance to the harbor!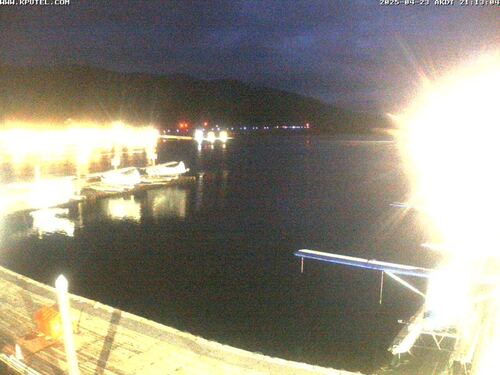 Webcam 5 looking north at Ketchikan Airport and ferry to get to the airport, along with more floatplanes!

Watch as floatplanes take off and land. The Ketchikan airport ferry shuttle runs across the Narrows every 15 minutes, and yes, indeed, you can only get to Ketchikan by boat or by birth! Alternatively, if you can swim, but that water is freezing!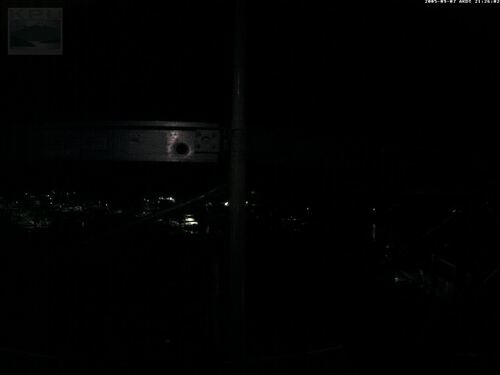 Webcam 6 looking south at Thomas Basin Marina.
This Ketchikan webcam is located near dock one and looks south towards the Thomas Basin marina entrance. Thomas Basin is one of many harbors in Ketchikan Being the world's Salmon Capitol having lots of space for parking boats a must!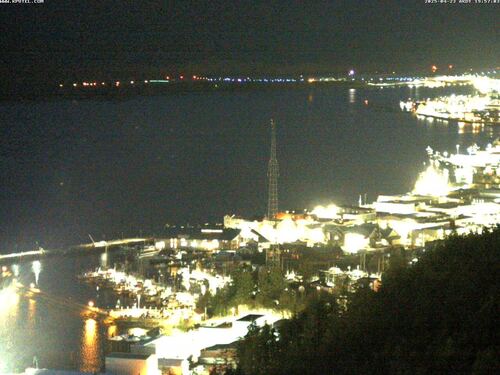 Webcam 6 looking south at Thomas Basin Marina.
The last webcam is located high atop one of the Verizon KPU cell towers. You can see the old downtown area with the whole of Thomas Basin and a magnificent view of all four cruise ship docks.